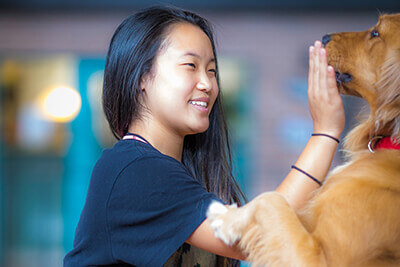 Calo's state-of-the-art canine program is an integral part of our student's experience. Our teenagers, have the opportunity to parent, foster and/or adopt a canine. Through this deep relationship with a golden retriever our students experience trust and empathy while learning how to bond with and care for someone external to themselves. As the student's emotional life enriches we help students transfer this experience to care givers and parents. We call this Transferable Attachment. The very core lesson that countless conversations and traditional talk therapy never taught a student over the years is finally discovered experientially as a student is vulnerable to a loving, safe animal – "If my parents love me more than I love my canine, I do feel safe. I really can trust that they won't leave me, hurt me or intentionally do harm."
Students are automatically enrolled in the Canine Therapy Program upon admission to Calo. All students interested in fostering and/or adopting a Calo canine will complete sequential requirements leading up to fostering and/or adopting a Calo canine. This process is similar in many ways to the human foster/adoption experience and closely resembles the family services model many of our parents and/or students have experienced.
Learn More about Canine Therapy at Calo
The Calo Adventure Program is based on the belief that our students need to be safely guided in the context of safe, trusting relationships by understanding and highly trained adventure staff and coaches to reach their full potential. Calo Adventure Therapy incorporates experiential learning at the heart of how we create growth opportunities for our students.
The program is designed to provide students the opportunity to challenge negative core beliefs, as well as gain mastery and self-confidence. Students are trained for a 25-30 mile bike ride on the Katy trail in Missouri through weekly fitness exercise routines and cycling excursions around campus. We also utilize weekly Ropes Course and other Adventure Activities. Service projects are also incorporated throughout the year.
Learn More about Adventure Therapy at Calo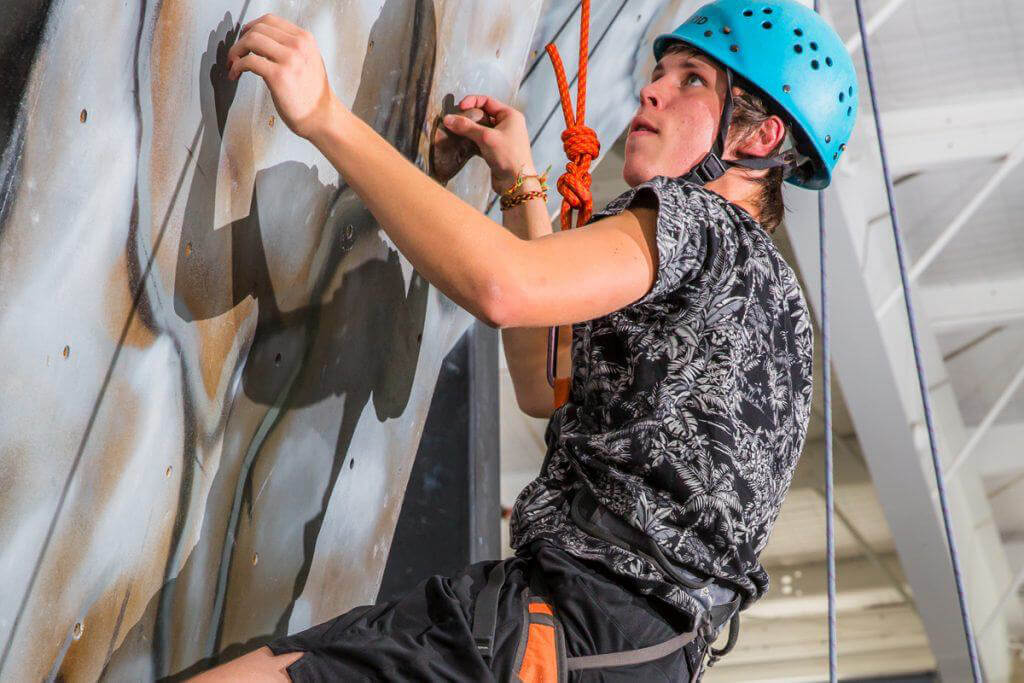 While Calo offers a range of core subjects and electives, our primary goal is helping students learn to regulate their emotions and their behavior in a classroom. Although a few of our students will graduate from Calo, most of our students will return home to conventional schools with normal expectations. Using our relationship-based approach, we strive to help students become a more self-aware learner who is comfortable in a classroom.
Learn More about Academics at Calo
Neurotherapy is an important intervention deeply imbedded in applied neuroscience. It provides tangible data on the progress of our students that shows if the brain is developing and growing. It allows us to look inside the brain to determine where the student's symptoms are coming from, and gives us clues as to how to make all of our interventions more precise and effective.
Our neurotherpy is trauma informed. All of our technicians are trained to empower our students and to develop safe, accepting, and committed relationships. All of our neurotherapy interventions are paralleled by a strong supportive relationship with our technicians. This dynamic becomes a significant indicator of a successful experience.
Learn More about Neurotherapy at Calo
To speak to a team member, please fill out the confidential form below. A team member will contact you within 24 hours.
If you would like to speak to an admissions counselor directly, please call 877-879-2256.